Some Favorite Sceens
These are some of our favorite memories from Madonna's Sticky & Sweet tour, part of her release of the Hard Candy album. The album rocks and the show was simply incredible! Please enjoy the poem we wrote for Madonna (bottom) to thank her for delighting millions with her music, the phenomenal dancing and choreography (kudos to Jammie King), costumes and sets, powerful video -- and for doing so much to bring us all together in the spirit of building a better world. We love, admire and respect you! Kisses to the Queen...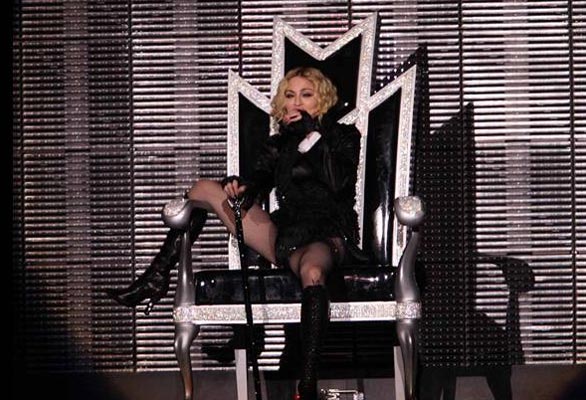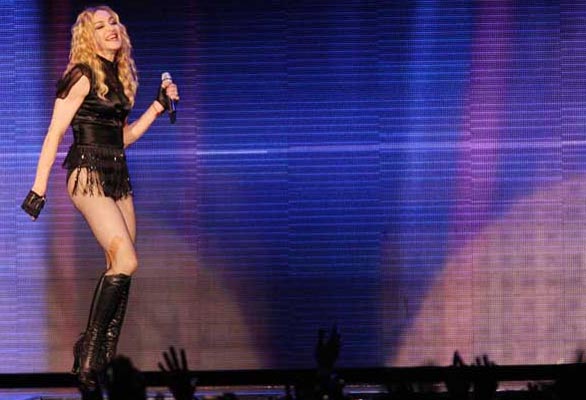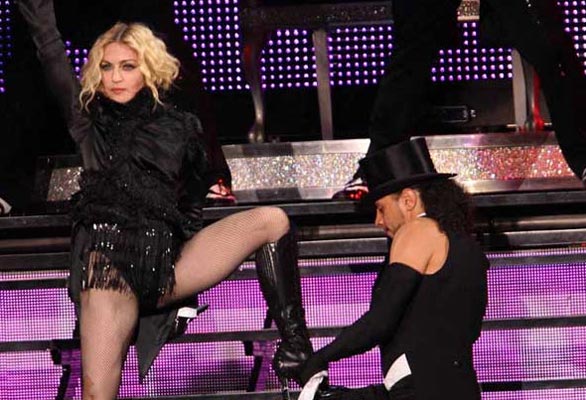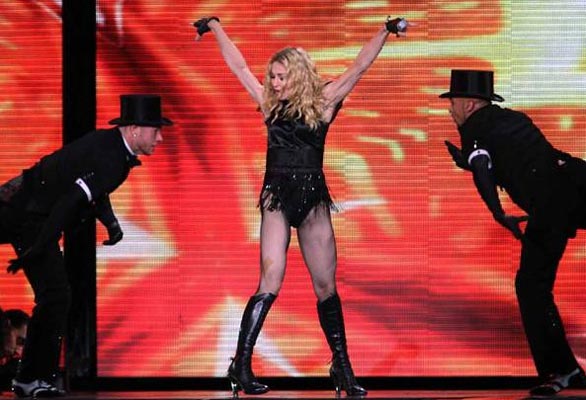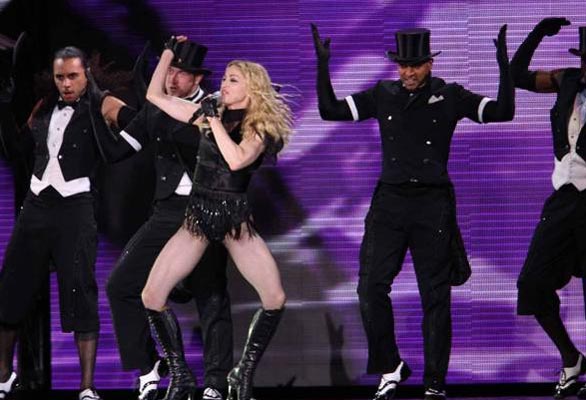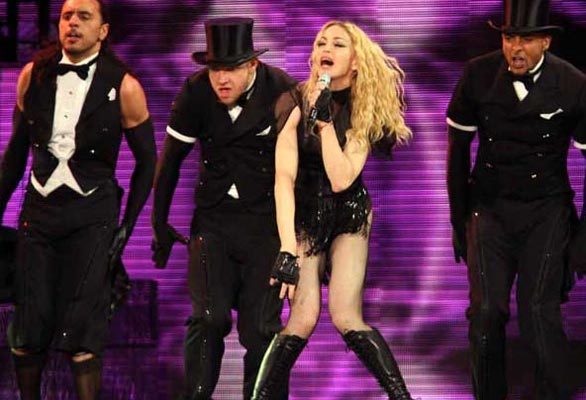 Dearest Madonna,
Thank you for sharing your "Sticky & Sweet" delight,
I wish to tell our tour story -- one incredible night.

For months, waiting impatiently, with tickets in hand,
Time to celebrate Obama's victory in a desert land.

Las Vegas dazzled, MGM's magnetron blazed your promo.
Our anticipation grew, while the clock moved in slow mo.

Into the venue, slowly, thousands were admitted,
All cultures, races and lifestyles, as one we fitted.

The curtain parted, DJ Oakenfold started the fire.
Give It 2 Me remixes -- this night we would not tire.

Candy Shop beats opened the show, the crowd screamed.
Out of her box, Madonna emerged, her fans redeemed.

Plenty to eat, sugar so sweet, can we have some more?
One stop candy shop, can't stay in my seat, candy galore!

Beat after beat, elevating my Heartbeat, rhythms bumpin',
Having so much fun I couldn't stop jumpin'.

MDolla rocked the crowd, her booty gettin' down, all night long,
I felt free -- like the only one the Light was shining on.

I must have woke from a Fuzzy Dream. Can this be true?
No longer miles away. Madonna channeling her love True Blue!

Costume changes, phenomenal dancers, a sensation jamboree,
I could see the signs with Madonna singing just to me.

The beat goes on and on, no Silly Girls hangin' around,
Riding in a white Bentley with dancers and magical sound.

Get up, it's time, your world... your life... your choice, go far.
Say what you like, do what you feel, be a star!

Now's the time, Madonna showing how -- sunglasses and white hat.
Voulez vous? Time to start something new. Did you get that?

Madonna, yo te quiero! Seniorita, you drive me crazy!
Siempre, I will remember this performance. You left me hazy...

How can we thank you for the amazing Hard Candy insight?
You are the Queen who always brings her fans to the Light.