Wyndham Worldwide Deception
NOT A JOB; THIS IS A JOKE!
UPDATE: [Tuesday, 2.10.15] Today, the island of Kaua'i and world lost a gracious, dear soul. My friend and partner at Wyndham, Darcel Koehne, suffered a heart attack while touring her clients. She was rushed to the ER and left us at some stage along the way. Out of respect for her passing, Tahiti Nui, closed their doors this evening to honor their "beloved friend, bartender, auntie, and angel to all."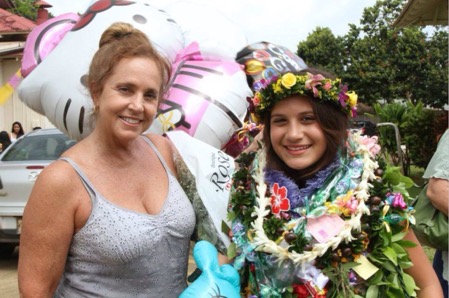 Angel Darcel Koehne with granddaughter Nela
A friend, Fern Anuenue, had this to say, "Thank you for being who you are, for being a beautiful soul, for your carefree smile and love for hula. Thank you for all the times you said you were proud of me. Thankful I closed with you last night. Thankful for our laughs and the way you brag about your kids, your grandkids, and your great grandchild that will be here any day."

Another friend, Joann Streeter, added, "She will be missed by many. She has a long history here on Kaua'i and worked hard to take care of her family. Cute as a button and sweet as pie. She took care of so many and worked so hard. Essentially, they worked her into the grave. Auwe, auwe, auwe ... how strange that we give birth to kids who end up killing us. And all she did was to take care of her 'ohana ... no matter what ... and in the only way she knew how. She did not fall short."

Darcel Koehne worked too many hours. Although tremendously talented, she was unable to make a decent living selling timeshare with Wyndham, which forced her to work cra-cra hours bartending. She would close Tahiti Nui around 2am and be on the Wyndham sales floor by 7:15am. Once done there, she would return home to care for her 'ohana. Heart attacks strike millions of women today. Darcel was simply worked to death. I know Akua now delights in her passionate and moving hula in heaven."

UPDATE: [Monday, 12.29.14 - from a talented coworker] Hi !!! Merry Christmas !!! Sorry late reply ... giving my 2 week notice. Called in sick this whole week! My family is more important than that bullshit! I was doing good actually, had some sales, vpg XXXXs, but this week 9 new hires. Carla quit (!!) Molly quit (!!) and I just realized it's all illusion and false impression, so lame... there's no $$$s to be made here. Longest person in Front Line now is XXXXX, everyone else has been here less than one year ... Sad. Don't want to be one of them :) love ur blog!!! Good job!!!

UPDATE: [Sunday, 12.21.14] Today's the winter solstice for those of us in the northern hemisphere. This means it's the shortest day, but longest and darkest night. Saw a scientific article claiming this day is the longest, darkest in planet history. For my coworkers at Wyndham Vacation Ownership, I'm sure this day was very dark for many of them. The work week begins on Sunday for the sales crew. It is one of the busiest days. Imagine the alarm clock going off, feet hitting the floor, excitedly my friends and coworkers think, "Wow! Can't wait to meet my newest owners today!" Yet when they arrive at the Wyndham Preview Center, they discover eight (8) new sales agents standing in the room. What a splash of cold water to their faces. The sales team consists of about 20-24 agents. These replacements represent about 1/3rd of the entire team. "They will need YOUR desk; they are getting YOUR tour; they will soon take YOUR job." E Komo Mai ... welcome to the Wyndham family.

It's simple as this ... if Wyndham is investing some $40K to $50K in each sales rep as they claim, they would not dispose of them as quickly and easily as they do. Wyndham's claim is deceptive; their many promises to hopeful agents are deceptive. FrontLine sales agents cannot make the income they are promised. Wyndham doesn't support agents as they promise. You will walk in one dark morning to find hopes and dreams dashed - throwing away your investment in a real estate education and license, travel and moving expenses, and lost opportunity costs.

Do the math. Agents get about 20 tours per month. Wyndham is always bringing in more staff, which reduces your number of tours. DoS Rackley reported a 14% close rate on average. As you're beginning, you'll be on the downside of the average, so estimate a 10% close. This means two (2) sales per month. Assume a $20K sale per deal. Your monthly volume is only $40K, not enough for bonuses to kick in. Beginning level is $50K. Yet the key total is $80K. Without bonus, the agent earns about 6% on the $40K ... gross commission is around $2,400 for the month. Take out taxes, benefits costs and other deductions, and your take home drops to less than 75% - or below $1,800 per month.
INTRODUCTION
I'm a former employee of Wyndham Worldwide, Wyndham Vacation Ownership - employee number: 592065. I loved my job, which was a Sales Consultant positiion at the Bali Hai resort on Kauai'i, Hawai'i. Each day I would have the opportunity to tour one or two families. Our objective was to sell ownership in vacation services. This is the 21st century name for TimeShare (TS). I was promised support, professional training, and the resources I would need to develop into a prosperous employee. My coworkers were as well. Total deception and fraud!

My friend, Nick (below), believed in the Wyndham promises. He moved out from Colorado. Big cost! Days before his wife finally joined us, he was killed in a bodyboard surfing accident at Kealia. Nick and his wife invested their money and dreams in the opportunity. His last text to me (9.2.14), "Come down. We're partying on the beach!" Much aloha and love, my brother!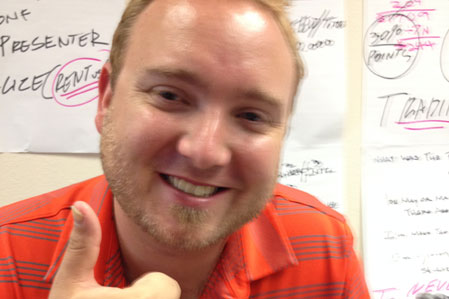 Nick Mettey — Killed Bodyboard Surfing
For prospective new owners of Wyndham Vacation Ownership (WVO), the manner Wyndham treated me, as well as my coworkwrs, should serve as a warning. Wyndham claims to be family-oriented. They told us repeatedly they would fight and work hard to ensure we were successful. They claimed to have spent some $40,000 to $50,000 on our training and would do everything they could to help us become top sales professionals. Total deception and fraud!

I write these short stories to honor the wonderful friends I met through this ordeal. Wyndham made the same promises to all of us; these were hollow illusions. To the dedicated, hard-working, mostly Type A-type acheivers, I commend your idealism and spirit to help others. Each of you, as did I, came here to open opportunities for people to realize their particular family travel and vacation goals; families who want to share memories, spend quality time together, and simply get out of the box of everyday life. To Jessica, Jason, Stephanie, Sonia, Will, Pete, James, Becky, Michelle, and countless others ... I write this in your memory. Yet I dedicate this work to my training partner, surf buddy, and good friend, Nic Matty. Nic was killed body surfing at Kealia Beach shortly after we began selling. His wife had just joined him on island and they had found a house. Nic told me his goal was to make Wyndham's Presidential Club in his first year. We had only been here for a couple months when he confided his disillusionment with our jobs.
CULTURE
I first met our Director of Sales (Dos), Mike Rackley, near the end of our classroom training. He's a dynamic, smart and charismatic guy. I believe he originates from Tennessee and has a strong Southern accent. His story is interesting: had been working as a waiter at PF Chang's prior to joining Wyndham. He frequently told us he "couldn't give this stuff away when he first started," and claimed to not have closed a deal in his first 90 tours. But once he found his footing, he rocketed to stardom. In some nine months, he shattered sales records and Wyndham promoted him to DoS. He recently announced he was accepting a promotion: would be leaving Kaua'i for a higher paying position on O'ahu. DoS Rackley also told us we were doing excellently. As a group, we averaged a 14 percent close rate and led other islands in gross sales volume. He reiterated how proud and thankful Wyndham was that each of us were part of this winning team. He explained we were the backbone of this company's success and that Wyndham and all management were dedicated to ensuring our continued employment. My manager filled in the darker details: 90 percent of the sales agents would soon be gone - either quitting due to inability to make a living or fired for underperforming.

The first thing Rackley told our training class was, "Buyers are liars." He reinforced repeatedly the nice couples who would soon be sitting across from us knew the game we played. They would lie to conceal their ability to afford Wyndham products and services, lie to prevent us from learning their true motivation for objecting to purchasing with us today, and they would be lying if they told us, "NO! We don't want to buy." He quoted statistics showing The Deal wouldn't happen until the clients had said NO! at least 4-5 times, and noted the #1 quality he sought in an agent was tenacity. As a social scientist and counselor in prior career work, I was conflicted listening to men train this group that NO! does not mean NO! How many millions of American women had suffered rape or sexual assault because men refused to hear their cries of NO?

Vice President, Terry NeSmith, supported this sentiment. "You must call out their bullshit," he frequently coached us. Both talked endlessly about the importance of creating "internal pressure" on the couple. They would encourage us to:

1. Make a friend as quickly as possible
2. Get them laughing and in the emotional ether
3. Seek out and determine the Dominant Buying Motivators
4. Pull their heart strings to get the deal

All the chit-chat we did with customers was simply a cover to learn deep personal facts and information about their inner feelings and behavior. If for example, an agent learned a dad was working too much and rarely taking his family on vacation, our Wyndham management trained us to use guilt to motivate the father to buy a package. Terry was an expert at using third-party stories to make his emotional points. Rackley used a slick logical process to walk clients to emotional buying conclusions. Both were very effective.

"People walk through the door with $400 price tags on their foreheads," Rackley callously spoke. This was the average revenue Wyndham earned per tour. It was simply a numbers game. This reasoning applied to sales agents as well. We were cannon fodder to Wyndham management. They needed an army of FrontLine sales agents to manage the flow of tours. FrontLine staff toured individuals, couples, families who were not currently Wyndham owners. A second set of agents, those assigned to InHouse sales, met with Wyndham owners. DoS Rackley reported Wyndham Vacation Ownership grossed over $2.1 billion in sales the proceeding year - 70% to existing owners from InHouse agents. This is where agents made money. FrontLine was a deadend. Not only were close ratios low, people didn't generally buy large packages. Wyndham did not tell us this before accepting our positions. In fact, we were discouraged from requesting to sell InHouse once we initiated training.

When I first launched on the sales floor, I did not have a manager. We were passed around and forced to find someone who was available - which was rare. It was just, as they say in the military, a CF or Charlie Foxtrot. Troops know what this really means! When Wyndham finally assigned our team a manager, he told us he was a Presidential Club performer. "How exciting!" We were thrilled to be working with someone with such a successful background. How deflated we were when we learned he did this in InHouse, not FrontLine. I never met anyone who had been successful in FrontLine sales. Never! During my months with my manager, protocol directed that I warm up the clients, give them basic facts anout Wyndham, calculate their Anyway dollars, and call over my manager to close the deal. In some 40 tours, he never closed one. Wyndham always assigned the loss to me!
AGENT TREATMENT
A humorous story managers told frequently was SR staff wouldn't attempt to learn the names of or speak to new agents. Only if they made it to the Christmas party were they worthy of getting to knowing. Most, including me, would be gone before this annual event. There were a number of divas at Wyndham. A top agent, named Anna, never once smiled at me or offered any assistance. She always seemed annoyed agents like us took up space in the building. Yet she was Best Girlfriend to the new agent she sponsored. The sponsor, Anna in this case, could receive some $10,000 to $15,000 if the new agent was successful. Wyndham didn't tell us of this practice before accepting our positions. Agents without a sponsor had no hope of becoming successful. Wyndham offered little on-the-job structured training. And that which was available was poor quality.

My first day on the sales floor was the most humiliating experience in my life. Wyndham didn't provide us with a desk or place to sit. One had to beg around like a homeless person. We weren't wanted - we represented replacements. We might be taking someone's job shortly. In fact, the only way we got a seat was for someone to mysteriously get sick. Agents, human beings, simply disappeared. Somebody took the vacant desk!

This is not meant to suggest there wasn't training. Wyndham had a training session most mornings at 7:30am. All new agents were required to attend; agents under the 1800 VPG (computed average sales volume per guest or tour) were also required to attend. As professional teachers and trainers know, quantity of training time does not mean the quality of training is high. Wyndham trainings were lectures. There was no interactivity - just some former sales hotshot telling us what to do. Trainings were pedantic and general. Most disturbingly, a top SR agent warned a number of us that following their advice was dangerous to our professional success. Simply put, "if you do what they say, you will not make it here."

Welcome to the Wyndham Human Meat Grinder ... E Komo Mai In addition, I was on island without my family and had difficulty finding professional housing. My wife helped me in my search for more suitable arrangements. We soon learned not to disclose I worked for Wyndham. "They fire people quickly there," we were told. Landlords didn't want to lock in six month leases with new Wyndham employees.
FIRST IMPRESSIONS
Some might say this situation was a classic "bait & switch" operation. I responded to a Wyndham job posting and soon received a call from their recruiter, Toni Keahiolalo. She was adorably positive and exuberant over the phone. If this was indicative of Wyndham culture, it would be a fantastic opportunity. She left me optimistic about the probability of success with this global company.

My first in-person meeting with Toni only reinforced my initial impressions. She was even more radiate and charming. Positivity bubbled from this Wyndham employee. I soon met our classroom instructor, Michael Sukehira. Suki is Japanese by blood and Hawaiian by culture - probably the planet's finest mix. I've never met anyone who had anything negative to say about him. He embodies the humility and grace of Japanese culture, while displaying the effervescent love, aloha and laughter common in Hawaiians. After meeting both Toni and Suki, I felt secure and comfortable about my opportunities to be successful. The two radiated positivity and warmth. Our initial two week training went well. Suki taught us the basics of the Wyndham TS business. I believe all of us felt we were ready for The Show. We were sheep soon to be fed to lions!

A few days before graduation, a coworker doused me with frigid water: the group's top SR rep, who was sponsoring her, told her if we listened to the training methods provided by Suki, we would soon be out of a job. She claimed this methodology did not work. Suki had warned about rogue agents and dubious claims of negativity. I respected my coworker but pushed these warnings aside. BIG MISTAKE!!!
ON THE JOB TRAINING
Simply put ... none! When we first met DoS Rackley, he welcomed us to what he called the most challenging sales job in the world. He referred to this challenge as the NFL of Sales. Not only would time be a major obstacle, as we had a brief 90-minute presentation window, Wyndham also demanded we close the deal that day. "Hello, my name is Scott. In a brief hour and a half, I would like you to drop some $20,000 to $50,000." Yet that would be too easy ... Wyndham added another twist: customers were not customers at all. In fact, none came to buy a thing. All participants agreed to attend the sales presentation only to receive a bribe, i.e., a gift or incentive. Generally, this was a $100 Cash Card. We were instructed to not even consider these tours as window shoppers. They were only in attendance for the cash! Rackley didn't pull punches; this would be the most difficult job we had ever attempted. On the other hand, Wyndham would provide support to ensure we had every opportunity to succeed. It was Rackley who instructed us that Buyers Were Liars. I soon learned Wyndham managers were liars as well. We were not supported. This was not a job; this was a joke.
LET'S GO SURFING
I had an opportunity to speak with HR director, Lilly Nieves, regarding the position about a month after joining the sales team. She asked me a number of questions about my experience. I wanted to be positive and looked for good things to say about the Wyndham process. I was still learning and remained hopeful. I had yet to make a deal but was in what I believed to be a 30-tour grace period. We were told the first 30 tours were "for free," suggesting they would serve as on-the-job training. I learned these were counted against us. Nothing free at Wyndham.

Lilly asked me how I felt about Wyndham's training program. I told her I had enjoyed learning from Suki - we all liked and respected him. I added that being on the sales floor was crazy chaos. She asked what I meant. In response, I asked Lilly if she surfed. She said no. "Perfect," I replied. "Then let me give you an example how it is for us - because most of us didn't know how to sell TS before joining Wyndham Worldwide."

I began by recalling how DoS Rackley referred to this sales environment as the NFL of Sales. So, imagine, I told her that you will soon be asked to surf Pipeline winter waves on O'ahu's north shore. Everyone here knows this legendary powerful surf. Only the best of the best survive. Her eyes widened. Locals know, this is a deadly game.

For about two weeks, I offer you and other new hopefuls land-based training. In the classeoom I lecture you about waves, wind and tides. I further talk about shore breaks, point breaks and waves that break on reefs. "Yada, yada, yada ... blah, blah, blah." I show you different types of boards. I give you some wax and you get to practice waxing a real surfboard. One day, I take you to Pipe. From the beach, you get to see the Pros doing their magic. "That will soon be you," I tell the class.

Finally, the BIG day arrives - our first shot surfing some of the most challenging waves in the world. We arrive early. The entire team is there. We get an inspiring pep talk. Two divas, Rock and Anna, rest nearby in cozy cabannas. Both are receiving a massage, while they read latest technical reports. SR reps joke around and trade barbs. Nervous tension blankets the beach.

An air horn blasts, signaling the start of the day's competition. JR reps, wanting to move up in the rankings, immediately rush to the water's edge. They boldly plunge into the tumultuous and pounding shore break. Skillfully they duck dive under massive mountains of white, foamy water and strongly paddle to navigate the powerful currents. SR reps laugh in amusement, continue to talk story, as all watch the human seals making their way out to the Line of Doom. Rock and Anna, reclining in their comfy robes, ask the wait staff for another cup of coffee.

Managers come over and instruct the newbies to saddle up. "Grab your board, get them waxed. Be ready to go in five minutes!" Our hearts are now in our throats; the internal beats are deafening. "What the hell have we gotten ourselves into," each silently wonders. SR reps stop by. "Remember .... do this, do that. Paddle like this, don't paddle like that. Yada, yada, yada ... blah, blah, blah. Be quick. Ask why. Don't talk too much. Make a friend to the waves. Feel their power but don't let the power distract you." We all realize the classroom had been warm, positive and comforting but this is now the REAL world. We haven't yet been in the water. We have no idea what to do. And, these waves snap boards as well as bodies.

Diva Anna walks over; kicks sand on our boards, which turns the surface into sand paper. This ensures one will be chafed when, and if, they return. She walks up to one newbie, Natalie. "Come with me, Girlfriend. My chariott has arrived." We all look - a golden jetski is pulling up to shore. "We're towing in today. No need battle all that messy surf. Let's go play! Told you I got your back. Nothing to it."

"Get going," our managers scream at the newbies. "Hurry! You only have nine minutes to catch and ride a perfect wave. Get into position. We'll tell you when to go. You only get one wave, the one we select, and then only one chance today."

KaBooM, an initial shore breaking wave slams us to the ground. "Catch a wave?" We can't even get into the water, we all realize. Rocked this way, rocked the other. Pounded to the ground. Millions of gallons of water holding us underneath. Can't breath. Terrifying. Exhilarating. Impossible. Fun. Challenging. WTF!!! None of us caught a wave that day. Badly bruised and exhausted, we battle to get back to shore. Welcome to Wyndham Vacation Ownership. Our managers grab us. "Totally stupid and unacceptable," my manager tells me. "I specifically told you to be quicker. It took you 15 minutes just to get out of the washing machine (swirling surf and currents). You talked too much. You need to ask Why more often. When asked, never answer. Always answer a question by asking a question. Don't give them what they want. Get them to chase you. Create value. Don't tell, that's no way to make a sale. Don't talk, just listen. Make a friend. Be their buddy, but don't get too friendly. Remember the point is to get them to buy. And, most importantly, remember every wave is a surfing opportunity. Don't worry that the SR rep got a clean, smaller wave. Excuses are for losers. Take the wave you are assigned. Charge hard and catch the wave perfectly. It's not that difficult."

A big round of applause echoed the beach. Anna is up on a massive wave. The newbie she is sponsoring sits on the back of the jetski. Anna rides a tow-in board and comfy padded straps secure her feet. She's holding the tow rope in one hand, flipping off the on-shore crowd with the other. As the wave peaks, she releases the rope. She glides effortlessly down the face. She's not even wet. Her long, lucious hair remains styled and she wears golden jewelry around her neck and wrist. It's a walk in the park for this lass. Anna sticks her left hand slightly into the cresting wave to slow her speed. She backs herself into the forming barrel. The wave curls above her head. She's now deep in the tube. She retracts her hand, shoots out of barrel along with exploding mist and spray ... a perfect ride. She's done for the day!

Natalie, Anna'a understudy, and the jetski driver pull in to retrieve her. She climbs aboard and tells Nicole to get in the water. "Grab the tow rope," she tells Natalie. Anna instructs the driver to pull Natalie around a bit. "Get a feel for the water and waves," she yells. Up and down they go, as the jetski pulls Natalie. "Okay, see that small approaching wave. That will be yours. Ready? OK, here we go." She directs the driver to the perfect spot. "Let go now," Anna yells to Natalie. Natalie floats down the clean face of a relatively small wave. Anna directs the driver to pick up Natalie. "Cheehoo," Anna chants. "You're amazing, Girlfriend! You'll be a champion like me in no time." The three head back to shore riding the jetski. Judges award Anna a 10; Natalie an 8.5. Arriving on the beach, Anna's posse hoists Natalie to their shoulders and gives her a brief victory parade. A Wyndham champion is born!

The bruised newbies, those without a sponsor, lay in the sand like exhausted monk seals. Most are still shaking from the beating they received. Their confidence is shattered. The training from Wyndham wasn't helpful at all. Listening to mentors "talk, talk, talk" about surfing at this level does not prepare one for such a challenge. Natalie was successful. She was being groomed. The other newbies were being ground up for the viewing pleasure of others. Must be hilarious to watch!

"So, Lilly. This is how our training went with Wyndham. All we got was a lot of talk. All we've heard now is that we should have, could have, would have ... if we were smarter, faster, better, more capable."

Wyndham Worlwide, Wyndham Vacation Ownership doesn't provide training. They just talk at us ... they lecture to us. They do not show. Anna showed her sponsored-friend. "Lilly, this is not a job. It's a joke!"