Israeli: Please Stop
I respect and honor Jewish people and their culture. Collectively, they've suffered and made mistakes as we all have. They've also contributed greatly to the world and America society. Since the United Nation's mandate in 1948 that created the Zionist nation of Israel, we've witnessed over 60 years of war and conflict. Let me put this decision in perspective. Imagine for a moment:
Recently Chinese archeologists uncovered a massive historical site in the upper region of the country near unexplored Mongolia. Scientists and scholars unanimously agree the discovery proves ancient people who suffered tremendous persecution were guided by their god, escaped oppressors in the region, and migrated to an area of North America described as modern day California. As the evidence is robust and findings are supported by billions of people, the United Nations in a divided vote ruled the lands of California must return to the original inhabitants. This Chinese tribe is coming; Californians must move out.
This imaginary tale is similar to the situation in Palestine. Zionists argued this was their "promised land," deeded by God centuries earlier. There has been much fighting ever since. Would Californians leave as we seem to expect Arabs to leave Palestine? Would Americans fight, as Jordanians, Egyptians, Iranians, Iraqis, Saudi Arabians, Lebanese, Syrians and other protest? Jesus commanded, "Do unto others as we want them to do unto us." It is doubtful we can undo what the UN did in 1948 but is there a compromise to this endless murder and killing? The road to peace begins when Israel agrees to stop land expansion. A popular solution before the world asks Zionists to return to the 1967 borders—so the killing of children of all cultures and faiths will stop.
The Reality
The Origin of the Palestine-Israel Conflict :: Published by Jews for Justice in the Middle East
"Our position is that the Palestinians have a real grievance: their homeland for over a thousand years was taken, without their consent and mostly by force, during the creation of the state of Israel. And all subsequent crimes - on both sides - inevitably follow from this original injustice." Dowload PDF Report
"The question is not whether the Israelis want to exterminate the Palestinians. They're doing it openly."

HUGO CHAVEZ, President of Venezuela
Interview with the French newspaper Le Figaro
Book of the Day: Midnight on the Mavi Marmara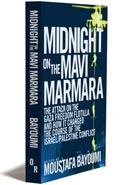 We have been attacked while in international waters. That means the Israelis have behaved like pirates ... The moment they start to steer this ship towards Israel, we have also been kidnapped. The whole action is illegal. — Henning Mankell, aboard the Gaza Freedom Flotilla :: buy book here

Eastern Mediterranean, Monday, May 31st, 2010, 4.30am: Israeli commandos, boarding from sea and air, attack the six boats of the Gaza Freedom Flotilla as it sails through international waters bringing humanitarian relief to the beleaguered Palestinians of Gaza. Within minutes, nine peace activists are dead, shot by the Israelis. Scores of others are injured. The 700 people on board the ships are arrested before being transported to detention centers in Israel and then deported.

Within hours, outrage at Israel's action echoes around the world. Spontaneous demonstrations in Europe, the United States, Turkey, and Gaza itself denounce the attack. Turkey's prime minister describes it as a "bloody massacre" and "state terrorism." Lebanon's prime minister calls it "a dangerous and crazy step that will exacerbate tensions in the region."

In these pages, a range of activists, journalists, and analysts piece together the events that occurred that May night, unpicking their meanings for Israel's illegal, three-year-long blockade of Gaza and the decades-long Israel/Palestine conflict more generally. Mixing together first-hand testimony, documentary record, and illustration, with hard-headed analysis and historical overview, Midnight on the Mavi Marmara reveals why the attack on Gaza Freedom Flotilla may just turn out to be Israel's Selma, Alabama: the beginning of the end for an apartheid Palestine.

Clinton: Israeli settlement announcement insulting
Secretary of State Hillary Clinton said Friday, March 12, 2010, that Israel's announcement of new settlement construction in disputed territory in East Jerusalem was "insulting" to the United States. The Israeli announcement came during Vice President Joe Biden's visit this week to Israel. It complicated U.S. efforts to set up so-called proximity talks between the Israelis and Palestinians, the latest attempt to nudge the two sides back toward talking directly.

Bin Ladin Says U.S. Should Stop Supporting Israel or Face 'War of Attrition'
"At the beginning, I say that we have made it clear and stated so many times for over two decades that the cause of the quarrel with you is your support for your Israeli allies, who have occupied our land, Palestine. This position of yours, along with some other grievances, is what prompted us to carry out the 11 September events.

Had you known the magnitude of our suffering as a result of the injustice of the Jews against us, with the support of your administrations for them, you would have known that both our nations are victims of the policies of the White House, which is in fact a hostage in the hands of pressure groups, especially major corporations and the Israeli lobby ..." more

Gaza Acts Amounted to War Crimes, U.N. Report Says
A United Nations report issued September 15, 2009 says Israel committed actions amounting to war crimes during Israel's military incursion into Gaza from December 27, 2008 to January 18, 2009.

The report determined that the Israel Defense Forces "failed to take feasible precautions required by international law to avoid or minimize loss of civilian life, injury to civilians and damage to civilian objects."

The U.N. found that Israel fired the chemical agent white phosphorous in civilian areas, intentionally fired high-explosive artillery shells upon hospitals, and failed to provide effective warnings to civilians or U.N. workers before attacks. It also claims that Israel used Palestinian civilians as human shields and deliberately attacked Palestinian food supplies in Gaza. source

While Palestinians also committed inappropriate actions, Israel was the aggressor -- and the more advanced and sophisticated party. The world expects greater leadership from this 60+ year old nation. Yet Israel refuses to abide by U.N. accords or U.S. requests, particularly concerning the construction of new settlements in the West Bank.

Israel Evicts Palestinian Families From Homes
The NY Times reported that Israeli security forces evicted two Palestinian families, about 58 people, from their homes in East Jerusalem early Sunday (7.3.09), furthering a plan for Jewish settlement in the predominantly Arab area ... The move, days after senior American officials visited Jerusalem to press for a settlement freeze, prompted sharp international criticism.

Nasser Ghawi, one of the evicted Palestinians, said his family had been living in its house for 53 years. Maher Hanoun, the head of the other evicted family, was out on the street like Mr. Ghawi. Thirty-eight members of the Ghawi family were removed from six apartments that made up one of the houses. There are 17 people in the Hanoun family.
"I do not need a tent or rice," Mr. Hanoun said. "What I need is to return to my house, where I and my children were born."
Robert H. Serry, the United Nations special Middle East coordinator, said in a statement that he deplored the evictions, which he described as "totally unacceptable actions by Israel."

The British Consulate, in Sheikh Jarrah, said in a statement that its officials were "appalled" by the evictions.

In a visit in March, Secretary of State Hillary Rodham Clinton warned against threatened evictions and demolitions in East Jerusalem.

Israel's prime minister, Benjamin Netanyahu, said recently that Jerusalem residents had the right to live anywhere in the city and that Israel's sovereignty over the capital "cannot be challenged."

Dear Mr. Netanyahu ~
As an experienced politician, would you say your claim that Israel's sovereignty cannot be challenged leads to peace or futher violence and conflict? Nearly 60 people lost their homes -- their homes! They have resided there for over 50 years and Israel throws them into the streets. Is this Israeli justice? If so, Israel deserves to be "wiped from the face of the earth," as you claim the extremists want. This incident gives credence to their point.

The Economist
summarized Israeli Prime Minister Netanyahu's speech of June 14, 2009. They claim it "is unlikely to provoke a big storm." Netanyahu appeared to accept an eventual Palestinian state alongside Israel, yet his words are a simple deception. Netanyhu "ringed it with sufficient conditions and provisos to ensure that, at first at least, his ideological shift does not imperil the stability of his rightist-religious coalition." The Palestinian state, he said, could arise only if it agreed to the following conditions.
ONE: Palestinians must "clearly and unambiguously recognise Israel as the state of the Jewish people." This means Palestinian refugees must be settled outside of Israel's borders, i.e., no "right of return," as resettlement within the country would undermine its existence as a Jewish [and racist] state.
SECOND: a new Palestinian state must be "demilitarised, namely, without an army, without control of its airspace, and with effective security measures to prevent weapons smuggling into the territory."
Netanyahu also included this "minor" position:
THREE: Israel would need "defensible borders." Thus Jerusalem would remain as the united capital of Israel; there would be continued religious freedom for all faiths.
The Economist
wrote that Netanyahu cast his principles and conditions in "categorical, take-it-or-leave-it terms," ala George W. Bush, and ignored various Israeli-Palestinian negotiations over the past two decades, under three American presidents, which were designed to attempt to resolve precisely the vexed issues of recognition, demilitarisation, borders, Jerusalem and refugees.
AUTHOR'S NOTE: These provisions make Netanyahu's proposal a non-starter. What nation state would agree to complete demilitarism? Would Americans give up ALL their guns? Remember our 2nd Amendment? Would we relinquish control over our airspace? Would Israel?
Netanyahu is not offering a state to Palestinians; he wants to create an "indian reservation." How about our principle of
Do to your brothers as you want them to do to you?
Netanyahu and leading Israelis want war and violence. In the ensuing chaos, they can continue to "steal" land and build settlements. It's time to get serious about peace.
Israeli War Crimes
Israel's bombardment of Gaza is not self-defence — it's a war crime. This letter of attorneys and academics appeared in the Times of London on Sunday. I have added my name. Please add yours.

Is Israel a Racist State? Find out here.

The U.S. has demanded greater democracy in the Middle East. Through popular vote, Palestinians elected leaders from Hamas to represent their interests. Israel and the U.S. responded by starving the millions of people who live in Gaza. This is mass punishment, which is a violation of international law. Hamas in return has responded to the imposed starvation, lack of water, lack of sanitation, and inhumane conditions by firing rockets into Israel. I do not support this, as "an eye for an eye leaves everyone blind," yet the world refuses to address the unacceptable underlying conditions. Thus, I understand why the Palestinians are frustrated.

There is no excuse for Israel's use of disproportionate force. They are not defending their nation or people; they are hoping to wipe the Palestinian people off the map!
Israel's bombardment of Gaza is not self-defence — it's a war crime
January 11, 2009

ISRAEL has sought to justify its military attacks on Gaza by stating that it amounts to an act of "self-defence" as recognised by Article 51, United Nations Charter. We categorically reject this contention.

The rocket attacks on Israel by Hamas deplorable as they are, do not, in terms of scale and effect amount to an armed attack entitling Israel to rely on self-defence. Under international law self-defence is an act of last resort and is subject to the customary rules of proportionality and necessity.

The killing of almost 800 Palestinians, mostly civilians, and more than 3,000 injuries, accompanied by the destruction of schools, mosques, houses, UN compounds and government buildings, which Israel has a responsibility to protect under the Fourth Geneva Convention, is not commensurate to the deaths caused by Hamas rocket fire.

For 18 months Israel had imposed an unlawful blockade on the coastal strip that brought Gazan society to the brink of collapse. In the three years after Israel's redeployment from Gaza, 11 Israelis were killed by rocket fire. And yet in 2005-8, according to the UN, the Israeli army killed about 1,250 Palestinians in Gaza, including 222 children. Throughout this time the Gaza Strip remained occupied territory under international law because Israel maintained effective control over it.

Israel's actions amount to aggression, not self-defence, not least because its assault on Gaza was unnecessary. Israel could have agreed to renew the truce with Hamas. Instead it killed 225 Palestinians on the first day of its attack. As things stand, its invasion and bombardment of Gaza amounts to collective punishment of Gaza's 1.5m inhabitants contrary to international humanitarian and human rights law. In addition, the blockade of humanitarian relief, the destruction of civilian infrastructure, and preventing access to basic necessities such as food and fuel, are prima facie war crimes.

We condemn the firing of rockets by Hamas into Israel and suicide bombings which are also contrary to international humanitarian law and are war crimes. Israel has a right to take reasonable and proportionate means to protect its civilian population from such attacks. However, the manner and scale of its operations in Gaza amount to an act of aggression and is contrary to international law, notwithstanding the rocket attacks by Hamas.

Scott Goold, American Activist
Ian Brownlie QC, Blackstone Chambers
Mark Muller QC, Bar Human Rights Committee of England and Wales
Michael Mansfield QC and Joel Bennathan QC, Tooks Chambers
Sir Geoffrey Bindman, University College, London
Professor Richard Falk, Princeton University
Professor M Cherif Bassiouni, DePaul University, Chicago
Professor Christine Chinkin, LSE
Professor John B Quigley, Ohio State University
Professor Iain Scobbie and Victor Kattan, School of Oriental and African Studies
Professor Vera Gowlland-Debbas, Institute of International and Development Studies, Geneva
Professor Said Mahmoudi, Stockholm University
Professor Max du Plessis, University of KwaZulu-Natal, Durban
Professor Bill Bowring, Birkbeck College
Professor Joshua Castellino, Middlesex University
Professor Thomas Skouteris and Professor Michael Kagan, American University of Cairo
Professor Javaid Rehman, Brunel University
Daniel Machover, Chairman, Lawyers for Palestinian Human Rights
Dr Phoebe Okawa, Queen Mary University
John Strawson, University of East London
Dr Nisrine Abiad, British Institute of International and Comparative Law
Dr Michael Kearney, University of York
Dr Shane Darcy, National University of Ireland, Galway
Dr Michelle Burgis, University of St Andrews
Dr Niaz Shah, University of Hull
Liz Davies, Chair, Haldane Society of Socialist Lawyer
Prof Michael Lynk, The University of Western Ontario
Steve Kamlish QC and Michael Topolski QC, Tooks Chambers