Race Relations and the Power of Love
March 17, 1977
Friends have asked me to repost a personal story about my college basketball team's historic Cinderella victory in our 1976-77 season over defending national champions, UCLA Bruins. This victory is arguably the greatest upset in collegiate basketball history, as the UCLA Bruins under the guidance of Coach John Wooden dominated the game like no other team - winning 10 national titles in only twelve years. It is unlikely any program will ever match their success. See YouTube Clip of #2 Big Sky Top 50 Greatest Moments in history.

Although this is a story about a basketball game decades ago, it demonstrates the remarkable and miraculous Power of Love. The seeds of this chain of love were planted in 1957 when Mary Petrea (Trea) Goold and Robert Harold (Bob) Goold gave birth to their first and only son, Scott, in Hattiesburg, Mississippi. In the late '50s, tragically continuing today, this area has been characterized by stubborn and entrenched racism, inhumane treatment of minorities, and unacceptable ignorance. My parents landed at the University of Southern Mississippi after my father served Team USA during the Korean War as a Navy enlistee on the aircraft carrier, USS Kearsarge.

As a morale booster and distraction from the horrors of war, the military provided a forum for competitive sports. Playing under the decks of aircraft carriers and other make shift venues, my father demonstrated sufficient prowess to earn a basketball scholarship to play for the university, which allowed both my parents to pursue their advanced education. I was born their first year and teammates entertained themselves teaching me to shoot in my baby crib. My parents earned their Bachelor's degree in Education and continued a lifelong pursuit in public education where they dedicated their lives to unselfishly helping others.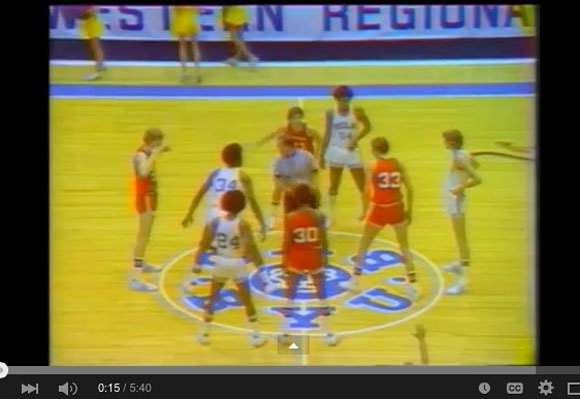 While the game remains but a cherished memory, the impact on American culture is part of a beautiful evolution in race relations and of far greater importance than those of us who participated. It is unanimously recognized today that military service and competitive sports have been effective equalizers in race and interhuman relations. One finds irrelevant the color of a person's skin fighting next to him (or her) when dodging bullets in a foxhole or pinned down in war zone. Ballplayers on the court or gridiron are similarly unconcerned about racial differences when seeking victory in the athletic arena. My parents matured into adulthood in both environments and championed the Civil Rights movement that dominated the 1960s and early '70s. Post-college my parents found teaching positions in my mother's home state of Idaho. My father also served as a high school basketball coach and their journey routed them to southeastern Idaho — home of the Idaho State University Bengals.

Pocatello, Idaho is one of the "whitest" places in America. It's also heavily Mormon and the church didn't release their Revelation about Blacks entering in the Priesthood until 1978. Our coach, Jim Killingsworth (photo left), was a decent, good human being, yet he told my father and I when recruiting me he opposed having "too many Blacks" on the team because it created problems with discipline. He sought smart, good-character White athletes who would attend classes regularly and not be "problems" in the community.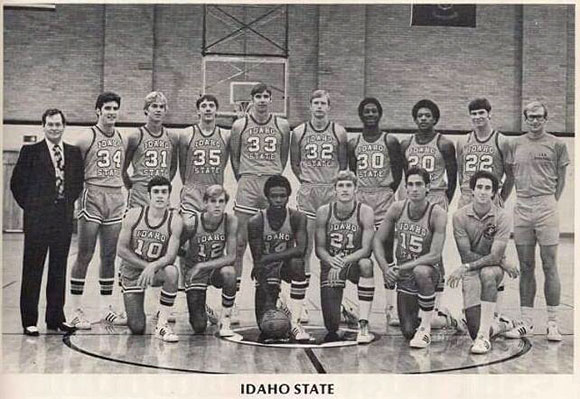 Standing L-R: Head Coach Jim Killingsworth, Mark McQuaid, Gene Bowen, Stan Klos, Steve Hayes, Jeff Cook, Greg Griffin, Paul Wilson, Brand Robinson, Asst Coach Charlie Finskey
Kneeling L-R: Kelly Gardner, Earnie Wheeler, Ed Thompson, Scott Goold, Brian Bemis, Grad Asst Matt Stranigan
I was a starter on this Cinderella team but my greatest contribution wasn't on the court. My closest friend, #14, senior Ed Thompson, was one of the best (unknown) point guards in the nation. He came to ISU as a JuCo transfer the previous year, which was my freshman season. After about a month that first year, Ed told me he was leaving. He hated Pocatello and ISU. It was simply "too White." There were few Blacks on campus and hardly any Black women. He was terribly lonely. I grabbed his packed luggage and threw his clothes across the room. I told him I wouldn't let him leave. I had been a center in HS and selfishly needed his mentorship. I was also smart enough to know that without him, our team would never amount to much. I loved him as a friend, player, and person and stuck by him like glue. We did everything together from that point forward. I introduced him to my family, and as a local boy, knew most people in town. I did whatever I could to make him feel at home. It worked. Ed stayed. Without him, we never would have become the Giant Killers over UCLA.

Ed also introduced me deeper into the small Black community in the area. I had attended all-White Highland HS, yet played baseball and basketball with players from the other city school, Pocatello. Many of the great athletes were Black. My mother worked at a heavily Black school teaching first grade. I had been fortunate to be welcomed into Black culture. I loved Motown, Funk, and the smooth jazz sounds played by Big Russ Sanders on his Sunday night public radio station program. I wore flashy, colorful Walt "Clyde" Frazier suits to HS dances with beautiful Lassies, such as Penny Holman Fisher, which my mother handmade for me. My White HS friends called me an "inside out Oreo." For fun, Ed taught me how to braid my hair; he taught me more about Race Relations and mentored me as a Big Brother on the court. As a freshman, I sucked as a point guard. Due primarily to Ed, I started as a sophomore. He was Batman; I was Robin. We made an excellent dynamic duo in the backcourt.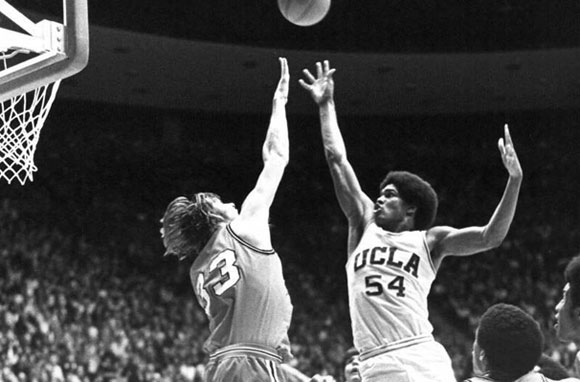 Most of our team were misfits. Our phenomenal 7' center, #33, Steve Hayes, and lifelong friend, came from a small town in Idaho. He was super skinny 6'9 out of HS, and due to the power of a concentrated peanut diet, magically bulked up into an NBA talent. Steve is shown defending future Hall-of-Famer, Marques Johnson above. Jeff Cook, #32, was a thin 6'5 when he left W Covina California for ISU. He was 6'9 and powerful by this season and continued a lengthy pro career. Greg Griffin, #30, was a rogue player, a journeyman out of Pasadena JuCo, and was older with military experience. He was one of the quickest, smoothest players I ever met - a sweet left-hander with a feathery jump shot.

Combined, we were totally a bunch of misfits. Yet we all loved basketball and worked passionately hard. Our coach was an a**hole most of the time. He wasn't called "Killer" for nothing. At our post-season awards banquet, someone asked what brought us together. Stan Klos, #35, was the most honest, although cynical, player on the team. He told fans we came together in our collective "hatred" of Coach K. I know we all despised Killer at times; yet we also loved him as only players can love a coach who demands and drives his team to excellence. He screamed, spit, and even one time choked out his false teeth due to his rage. He beat us up emotionally; ran us into the ground physically; and caused us so much pain; yet we got better. He turned misfits into champions! In a sense, particularly in his perceptions about race, he was a misfit as well. Together, we did the impossible. We changed ourselves, our team, our community, and in a small way, we changed America for the better.

Paul Wilson, #20, was one of the most explosive leapers I ever witnessed. He could fly better than Jordan. Yet he was hindered by small hands and had a difficult time gripping the ball. He is one of the finest human beings I ever met. I thought he would be president of the United States or something one day. Everybody loved Paul - especially women. Brand Robinson, #22, came out of Montana. We were the only freshman recruits Killer signed for the 1975-76 season. We were like brothers and he was an amazing, pure shooter. We didn't have the 3-point line then - too bad. Brand never shot much closer in. Freshman Ernie Wheeler, #12, had a great game against UCLA. He was a coach's son and surfer boy from SLO California. We became loyal friends over the years.

Without our African American brothers, ISU would never have made history. Without Ed Thompson, ISU would never have made it to the NCAA dance. Due to my small contribution, without ScottyG, Ed would not have stayed in the nearly all-White area of southeastern Idaho. And, without Sherann Glorfield's famous chocolate cherry cakes or Glenn Alford's sports information campaign, and the support of so many fans who cared nothing about the color of a person's skin but rather their character of heart and soul, none of this magic would have happened. Due in part to the frustration of Ed and other Black players on our team, as well as the football and track programs, ISU began recruiting more African America students in general. The forward-looking administration recognized the difficulty minority groups suffered being overwhelmingly isolated.

Sports opened doors, as well as hearts and minds. Many of us joked in 1978 when the Mormon Church announced their revelation about Blacks being allowed to enter the priesthood that this was due to BYU wanting to become more competitive in sports. Funny looking back today how the smallest of actions turn into the greatest of victories.

UPDATE 3.20.15: Friends, fans and family have shared with me that this story touched their hearts passionately. I want to dedicate these joyous memories to my parents, Bob and Trea Goold. My mother is currently in the hospital recovering from a bad fall and I wish her a speedy recovery. I thank my father for the endless hours he sacrificed to make me the ballplayer I became. His coaching allowed me to earn a scholarship at Idaho State University and eventually be on the floor in this historic game. My mother thanklessly served as our team manager. At the same time she dedicated her life as a First Grade teacher to helping young children, primarily minority boys and girls at Bonneville elementary school. She taught me compassion, particularly for people not exactly like me.

My father's guidance allowed me to recognize I needed teammates such as Ed Thompson et al to become a better player and be part of a championship team. My mother's leadership developed a sense of empathy in my heart for the needs of others. We had a great team, a phenomenal collection of players and coaches in 1976-77. Had I only recognized Ed Thompson's skills on the court, rather than his isolation and loneliness when practice was over, our collective greatness would never have been revealed. Essentially, this is the yin and yang of life; the balance between skills and love that all of us must seek. I hope this lesson transcends this fantastic game. Together, whether a couple, family or nation, we are strong together and weak when divided. Live love and aloha always.

UPDATE 3.22.15: Doctors notified us today that the condition of my mother, Mary Petrea Goold, has turned critical and she is not expected to recover. She suffers much pain and has requested to be removed from life support. This is consistent with the courage demonstrated by her mother, and my grandmother, Wilma Knudsen. Both told us they refuse to be a burden on family or society as their light of life slowly dims toward the ultimate passing we all must face. Please keep her in your thoughts and prayers. She dedicated her life to giving others who were less fortunate and in need a better life. She touched so many hearts and minds, while bringing joy and hope to countless. I love you eternally, mom!

I am blessed to have been raised by such a loving, unselfish and compassionate mother and friend. The story I wrote above about my historic experience in sport focused on the Power of Love. Both my mother and father devoted their lives to ensuring their children never lacked for love. Our family struggled frequently to make ends meet, as millions of Middle Class families do. Yet there wasn't a single day, not ever for a minute, that we lacked love. All who knew my mother testify that her commitment to love extended far beyond her immediate family and to all she encountered in this brief moment we call life.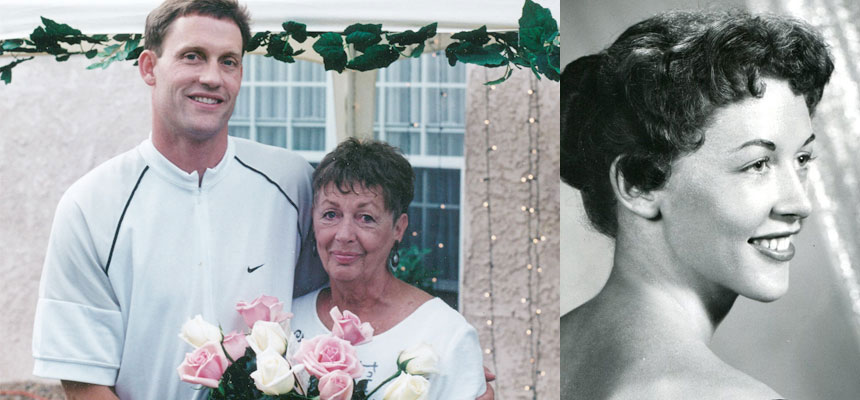 Left: Scott and Trea, 1998, at Scott and AnnMarie's marriage ceremony. Right: Thanksgiving, 2005
In Loving Memory to my mother, Mary Petrea (Knudsen) Goold.
January 10, 1935 - March 23, 2015. I thank all of you for your gracious thoughts, wishes and prayers. My mother began her eternal journey early this morning, 3:15am MDT, surrounded by her loving family. Her passing was peaceful and relieved her of this worldly pain. Her legacy is continued by her husband, Robert (Bob) Harold Goold; children - Scott, Kari and Dianne; four grandchildren - Brittany, Ashleigh, Jenny and Andy; and two great grandchildren - Cadence and Cohen.