The 2008 Summer Games: Good Luck to Our Friends
Along with Jenny Lang Ping, head coach of the U.S. Women's Volleyball team, we extend our wishes for a successful competition to Yurika Naramura of Japan. Yurika spends much of her time training for her marathon performance in the Albuquerque, New Mexico area.
The high altitude and relatively cool climate provides an excellent environment for long distance runners. Yurika hopes to dethrown her teammate,
Mizuki Noguchi
, who won gold in the Athens 2004 Marathon. Mizuki also trains in Albuquerque.
Good luck to both Jenny and Yurika.
Yurika Nakamura

5'5'' / 106 lbs

Hobbies: Taking baths and cooking

Sporting philosophy

"Learn from your mistakes."
Congratulations to Yurika.
She finished 13th in the Women's Marathon, held Saturday (8.16), with a time of 2:30:19. We'll look forward to seeing her compete in London 2012!
Coach Jenny Lang Ping's
Team USA
Women's Volleyball team had a phenomenal tournament. With a record of 4-1 in pool play, they qualified for the final eight. In their first match, they beat
Italy
3-2 (8.19) and advanced to the medal round. They surprised the world by smashing
Cuba
3-0 in the semi-finals (8.21).
China
lost to
Brasil
in the other semi-final match. On Saturday (8.23), Team USA lost to Brasil in the gold medal match, but went home with the silver. China beat Cuba to win the bronze. This was Brasil's first Olympic gold medal in women's volleyball ... we congratulate this beautiful team. We enjoyed their
samba-like grace
and
infectious exuberance
.
While the Beijing Olympics showcased many stars and phenomenal competitions, the women's indoor volleyball tournament was particularly exciting. Our staff selected one player and one coach for their outstanding achievement.
Paula Renata Marques Pequeno
, Brasil, dominated in
scoring
,
blocking
,
defense
and
service reception
while leading her team to the gold medal. The 26-year-old outside hitter stands 6'0" tall, enjoys eating pizza, singing and dancing when not reigning on the court. Brasil remained undefeated in matches and lost only one set (24-1) during the course of this year's competition. See
FIVB Details
.
Coach
Jenny Lang Ping
, USA, returned Team USA to the victory podium for their first medal in 24 years. This year's silver medal equals the USA's best performance when Team USA lost to China in the final match of 1984. Jenny, nicknamed "Iron Hammer" as a player, led her Chinese team to gold in the Los Angeles Olympics.
Paula Pequeno - Most Valuable Player
Brasil
Jenny Lang Ping - Most Valuable Coach
USA
NBC's Coverage of the 2008 Beijing Olympics
2008 Medal Summary
| | | | | |
| --- | --- | --- | --- | --- |
| | GOLD | SILVER | BRONZE | TOTAL |
| CHINA | 51 | 21 | 28 | 100 |
| USA | 36 | 38 | 36 | 110 |
| RUSSIA | 23 | 21 | 28 | 72 |
The Biggest Hero...
The photo (courtesy: Xinhua/Liu Dawei) highlights the Chinese basketball player, Yao Ming, who currently plays center for the Houston Rockets. Yao stands 7' 6" (2.286m) -- yet Yao isn't the hero in this picture. It's the little dude next to him.

It's likely you heard about Lin Hao. Nevertheless, his story should be repeated again and again. Hao isn't quite half as tall as Yao, who is one of the tallest men in the world. Yet his heart is bigger than all of ours put together.

Hao, nine-years-old, was a student in a Sichuan school, the area hit hard by the recent devastating earthquake. Hao pulled himself from the wreckage, which killed nearly all his classmates, and risked his life to rescue two students. He returned numerous times to search through the debris, although being hit by falling rubble and suffering multiple head injuries.

Why was little Lin Hao willing to sacrifice his life? He said it was his duty, "I was the hall monitor, it is my job to look after my classmates." Duty, honor, country ... these words used to mean something in America a long time ago. The "ME" generation that dominates our society today doesn't understand this type of collective responsibility. Hopefully, we all will learn from this GIANT.
Off to a Crazy Start!
As a professional athlete, I used to train in the Los Angeles area. It was a great environment for competition: the weather was nearly perfect due to the proximity of the beach; there were hundreds of great athletes in the area, so skilled opponents were always available; and there were endless locations to workout and play. There was one negative factor at that time -- the LA air quality.
Whether I would drive in or catch a flight to sunny Southern Cal, I would fight a minor respiratory illness for a week or so. The first couple times to the area I thought it was just me. Yet time after time, the same thing happened. I asked around and other visiting athletes and tourists had similar complaints. This was the price of admission to the Golden State.
The thought of flying into Beijing with their terrible pollution brings back many memories. I know how hard I worked to be in top shape. The Olympics last less than three weeks and I would be concerned about a respiratory infection that might affect me for a week or so.
Apparently, the U.S. Olympic Committee (USOC) was concerned as well. They designed a filter mask and distributed around 200 of them to the U.S. athletes. These are not frivolous concerns:
Satellite data has revealed that the city is one of the worst environmental victims of China's spectacular economic growth, which has brought with it air pollution levels that are blamed for more than 400,000 premature deaths a year.

According to the European Space Agency, Beijing and its neighbouring north-east Chinese provinces have the planet's worst levels of nitrogen dioxide, which can cause fatal damage to the lungs. [1]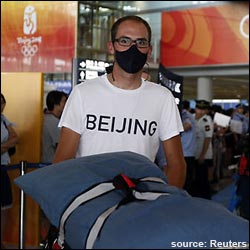 On Wednesday, I happened to walk by a TV that was playing in a public area. The announcer reported that some U.S. athletes had caused a diplomatic stir by wearing the USOC-issued masks.
Members of the U.S. cycling team, Michael Friedman, Sarah Hammer, Bobby Lea and Jennie Reed took their athletic mission seriously and were concerned about the reported pollution. To avoid a potential respiratory illness, they donned the air filters. (see photo at right)
How did the USOC handle the matter? They were apologetic -- "so very sorry -- that its band of cyclists embarrassed China by arriving at the Beijing airport wearing black pollution masks that made them look like stage-coach robbers."
"It wasn't the best judgment," said Jim Scherr, CEO of the USOC. "The athletes understand that now."
As reported by Sports Illustrated, the USOC made sure the cyclists understood this breach of guest etiquette by scolding them to tears, eliciting an official apology from Friedman, Hammer, Lea and Reed:
"Following our arrival on Tuesday, we offer our sincere apologies to BOCOG, the city of Beijing, and the people of China if our actions were in any way offensive. That was not our intent. ... We deeply regret the nature of our choices. Our decision was not intended to insult BOCOG or countless others who have put forth a tremendous amount of effort to improve the air quality in Beijing." [2]
Let's give these fine athletes a STANDING ROUND OF APPLAUSE. What a mixed up world. These U.S. athletes wore the filtering masks given to them by the USOC, and as an athlete, I attest that wearing the masks would probably be a good idea for an high powered professional who needs their full lung capacity.
During exercise, the movement of air in the lungs goes up about tenfold, which means exposure to air pollution goes up tenfold," Munzer says. "This has a severe affect on the respiratory tract. It will have an effect on healthy athletes. [3]
Yet the athletes were punished by the USOC for offending the "organizers."
The perception that Beijing's pollution, which prompted a shutdown of factories and reduction in auto travel during the Olympics, was so harmful that Olympians needed masks on arrival was seen as a slap in the face to organizers. [4]
Rather than supporting OUR team, USOC officials deflected the blame away from themselves, avoided taking personal responsibility in this matter, and treated some of our "best and brightest" like deviant sixth graders.
NOTES:
[1] Satellite data reveals Beijing as air pollution capital of world,
Guardian.CO.UK
[2] Beijing quickly becoming Spin City,
Sports Illustrated
[3] Olympics in Beijing: Air Quality Woes -- Athletes and Spectators Worry About Health Impact of Beijing's Air Pollution,
WebMD
[4] Masked US cyclists apologize to Olympic organizers,
Yahoo! News